Average struggle is the breakdown of a learner's misinformation and uncertainty to show the efficiency of learning. Average struggle is calculated by the following interactions:
Actionable Intervention

: A learner saw a question three times and still got it wrong. Some action needs to be taken to help a learner through this content.

Low Struggle

: A learner saw a question three times, but got it correct on the third try. A learner may need help with this.

Learned It:

Knowledge that was misinformation or uncertainty that has now been learned. This is good.

Knew It

: Knowledge that a learner already mastered. This is good.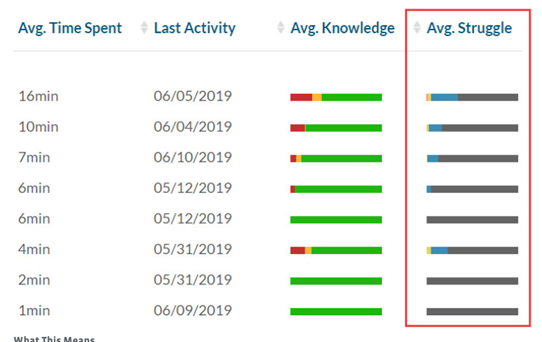 Decreasing struggle is represented by increasing gray (knew it) and blue (learned it) bars over time. Learning with Actionable Intervention, especially in refreshers, should be reviewed to understand why a learner is continually unsure of the topic.
Note: There is a close relationship between average knowledge and average struggle.